I am participating in Top 5 Wednesday today and will be showing you books I want to read before the end of the year. For the month of May, we are able to go back to the old topics that were done before we joined this link-up and choose one of those, so I'm super excited to be doing this topic today.
So, let's get started, shall we?
Here are 5 books that I want to read before the end of this year, listed in no particular order.
1. Geared for the Grave by Duffy Brown 


Mackinac Island is a peaceful summer resort town where everyone coasts through the streets on bicycles. But after someone sends a prominent local on her final ride, it's up to one resourceful visitor to get things running again…
Hoping to shift her chances of a promotion in her favor, Evie Bloomfield heads to Mackinac Island to assist her boss's father. Rudy Randolph has broken his leg and operating his bike shop, Rudy's Rides, is too much to handle by himself. But Evie's good turn only leads to more trouble…
After Evie's arrival, wealthy resident Bunny Harrington dies in what looks like a freak bike accident. Upon closer inspection, Bunny's brakes were tampered with, and now the prime suspect in her murder is also Bunny's number one enemy: Rudy. So if Evie hopes to stay on her boss's good side, she'll need to steer Rudy clear of jail. Now she must quickly solve this mystery so she can put the brakes on the real killer's plan…
2. Flowers and Foul Play by Amanda Flower


Fiona Knox lost her fiancé and her flower shop—but when she flies to Scotland to inherit her godfather's cottage and possibly magical walled garden, she may lose her life as well when she's swept into a murder investigation.
Florist Fiona Knox's life isn't smelling so sweet these days. Her fiancé left her for their cake decorator. Then, her flower shop wilted after a chain florist opened next door. So when her godfather, Ian MacCallister, leaves her a cottage in the Scottish Highlands, Fiona jumps on the next plane to Edinburgh. Ian, after all, is the one who taught her to love flowers. But when Ian's elderly caretaker Hamish MacGregor shows her to the cottage upon her arrival, she finds the once resplendent grounds of Duncreigan in a dreadful shambles—with a dead body in the garden.
Minutes into her arrival, Fiona is already being questioned by the handsome Chief Inspector Neil Craig and getting her passport seized. But it's Craig's fixation on Uncle Ian's loyal caretaker, Hamish, as a prime suspect, that really makes her worried. As Fiona strolls the town, she quickly realizes there are a whole bouquet of suspects much more likely to have killed Alastair Croft, the dead lawyer who seems to have had more enemies than friends.
Now it's up to Fiona to clear Hamish's name before it's too late in Flowers and Foul Play, national bestselling author Amanda Flower's enchanting first Magic Garden mystery.
3. All Your Perfects by Colleen Hoover


Quinn and Graham's perfect love is threatened by their imperfect marriage. The memories, mistakes, and secrets that they have built up over the years are now tearing them apart. The one thing that could save them might also be the very thing that pushes their marriage beyond the point of repair.
All Your Perfects is a profound novel about a damaged couple whose potential future hinges on promises made in the past. This is a heartbreaking page-turner that asks: Can a resounding love with a perfect beginning survive a lifetime between two imperfect people?
4. Avalanche by Cambria Hebert


Don't get caught in the surge.
Through a bullet hole in a wall, I watch a man bleed to death.
Those responsible think their crime died with the victim, until I identify them.
What's a girl to do when she's being hunted by murderers
witness protection can't even stop?
Run.
My only refuge is a place I vowed to never go again.
When it's do or die, an eight-year-old heartache suddenly seems trivial.
Besides, he won't be there anyway.
But he is.
Turns out my old pain feels brand new the second his eyes meet mine.
I can't leave. I can't stay.
This snowy town that's supposed to be my shelter
suddenly exposes me more than before.
With no one else to lean on, Liam becomes my lifeline.
Now we're both running for our lives,
trying not to get swept away.
5. The Sword of Summer by Rick Riordan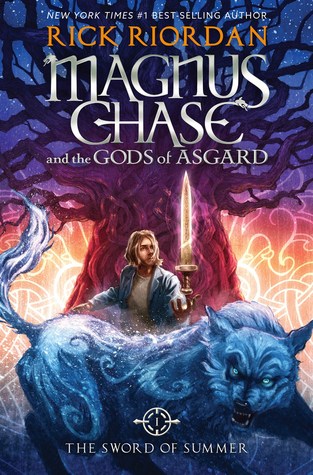 Magnus Chase has seen his share of trouble. Ever since that terrible night two years ago when his mother told him to run, he has lived alone on the streets of Boston, surviving by his wits, staying one step ahead of the police and the truant officers.
One day, Magnus learns that someone else is trying to track him down—his uncle Randolph, a man his mother had always warned him about. When Magnus tries to outmaneuver his uncle, he falls right into his clutches. Randolph starts rambling about Norse history and Magnus's birthright: a weapon that has been lost for thousands of years.
The more Randolph talks, the more puzzle pieces fall into place. Stories about the gods of Asgard, wolves, and Doomsday bubble up from Magnus's memory. But he doesn't have time to consider it all before a fire giant attacks the city, forcing him to choose between his own safety and the lives of hundreds of innocents. . . .
Sometimes, the only way to start a new life is to die.
---
What books would you like to read before the year is over?