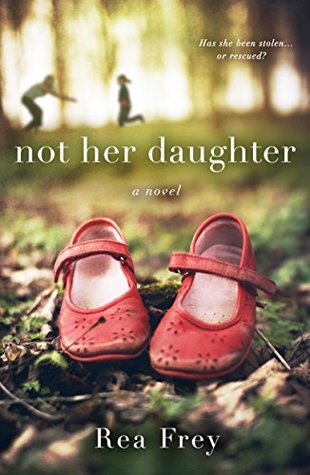 Synopsis:
Emma Townsend. Five years old. Gray eyes, brown hair. Missing since June.
Emma is lonely. Living with her cruel mother and clueless father, Emma retreats into her own world of quiet and solitude.
Sarah Walker. Successful entrepreneur. Broken-hearted. Kidnapper.
Sarah has never seen a girl so precious as the gray-eyed child in a crowded airport terminal. When a second-chance encounter with Emma presents itself, Sarah takes her—far away from home. But if it's to rescue a little girl from her damaging mother, is kidnapping wrong?
Amy Townsend. Unhappy wife. Unfit mother. Unsure whether she wants her daughter back.
Amy's life is a string of disappointments, but her biggest issue is her inability to connect with her daughter. And now Emma is gone without a trace.
As Sarah and Emma avoid the nationwide hunt, they form an unshakeable bond. But what about Emma's real mother, back at home?

My Review:
4 out of 5 stars
I think at some point, all of us have seen an unpleasant interaction between a parent and their child in public. Sometimes it is just yelling or fussing and sometimes it is physical. Either way, it leads you to wonder about what kind of life that child has when they are at home. Is the child happy? Are they safe? Are they loved? Witnessing something like that makes you want to save the child and get them away from that environment. What happens when someone actually acts on it though? Is it right or wrong? Is it okay for the child to be taken from their parent(s) by a person when it is for their safety? This book really makes you think. You could just walk away and not think anything else about it. You could alert the authorities or Child Protective Services and hope that something is done about it. Or you could take matters into your own hands and take the child with you.

I was pretty torn while reading this book. I knew that Sarah taking Emma away from her mother was illegal, but I couldn't help but root for Sarah anyway and be glad that she had saved Emma from her. I didn't like the mother, Amy, at all. I just couldn't wrap my mind around her behavior at times. If my child was missing, I would absolutely without a doubt be losing my mind! I doubt I'd even be able to function.

For a while, I thought the story was going to go in a direction that I wasn't going to like. I ended up being pretty happy with the way the book ended though. I had some questions that were left unanswered, but the story was still wrapped up nicely.

I really liked that this story was told from the point of view of both Sarah and Amy. It was interesting getting to see into both of their behaviors and motivations. I also like that the chapters were divided into "Before", "During", and "After" the kidnapping. The suspense, wondering what was going to happen next, and wondering if Sarah was going to get caught had me flipping through the pages quickly. I was engaged in the story from beginning to end.

*I received a copy of this book in exchange for an honest review.
Book Links:
Goodreads
Amazon
Barnes & Noble
iBooks
Kobo