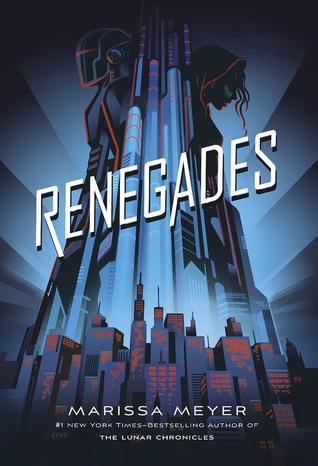 Synopsis
Secret Identities. Extraordinary Powers. She wants vengeance. He wants justice.
The Renegades are a syndicate of prodigies — humans with extraordinary abilities — who emerged from the ruins of a crumbled society and established peace and order where chaos reigned. As champions of justice, they remain a symbol of hope and courage to everyone… except the villains they once overthrew.
Nova has a reason to hate the Renegades, and she is on a mission for vengeance. As she gets closer to her target, she meets Adrian, a Renegade boy who believes in justice — and in Nova. But Nova's allegiance is to a villain who has the power to end them both.
My Review
4 out of 5 stars

This book intimidated me for a long time because it's so much longer than the books I usually read. I'm so glad I decided to go ahead and read this though. I really enjoyed it!
A big part of this book was spent giving backstory, building the world, and preparing for the next book, which is to be expected with the first book in a series. Even with that though, this book was really interesting. I was never bored while reading this book. The plot and the characters held my interest all the way through to the end. I loved learning about all of the Renegades and the Anarchists and learning about their abilities.
Nova was a really interesting character to me. She ended up surprising me towards the end of the book. There were some twists that I didn't see coming at all. That's another thing. That ending? It gave me entire body shivers! Whew! I can't wait to read the next book!
Book Links
Goodreads
Amazon
Barnes & Noble
Indie Bound