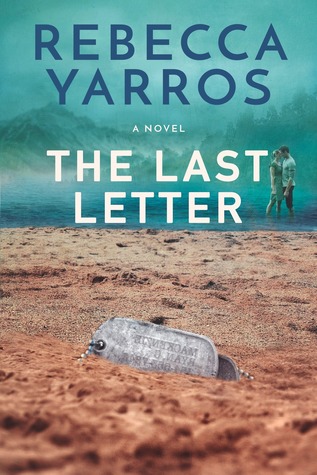 Synopsis
Beckett,
If you're reading this, well, you know the last-letter drill. You made it. I didn't. Get off the guilt train, because I know if there was any chance you could have saved me, you would have.
I need one thing from you: get out of the army and get to Telluride.
My little sister Ella's raising the twins alone. She's too independent and won't accept help easily, but she has lost our grandmother, our parents, and now me. It's too much for anyone to endure. It's not fair.
And here's the kicker: there's something else you don't know that's tearing her family apart. She's going to need help.
So if I'm gone, that means I can't be there for Ella. I can't help them through this. But you can. So I'm begging you, as my best friend, go take care of my sister, my family.
Please don't make her go through it alone.
Ryan
My Review
3.5 out of 5 stars

I'm going to be completely honest and say that I'm really torn about how I feel about this book. On the one hand, I really enjoyed most of the book. Then again, there are two really big things that bothered me.
Lying to protect the other person, or lying for any reason really, has become a really big pet peeve of mine in romance books. I struggled with that in this book. Whether it is lying by omission or straight up lying, it's just not necessary. Beckett was holding something back from Ella because he was certain that if she ever learned the truth then she'd kick him out and never speak to him again. Well, the truth always has a way of coming out. Ella wasn't angry about the truth that Beckett was hiding/keeping from her. She was angry because he LIED. Especially in this case, you don't lie to a woman that already has trust issues. Ella and Beckett lost a pretty good amount of time together because of this. Not only that, but Beckett and the kids lost precious time together as well. It was just such a huge waste and could have been avoided.
My second thing that really bothered me is the tragedy near the end of the book. This entire book was full of one tragedy after another, but you could at least see where they fit into the story. This last one didn't need to happen. There was no reason for it. It definitely had the emotional impact that I'm sure was intended though. I don't remember the last time I cried that hard while reading a book. After reading those heart wrenching words, I literally put the book down, threw my head back, and sobbed for a long time. I had to calm myself down before I could pick the book back up and finish it.
With all of that said though, there were still many parts of the book that I loved. I enjoyed getting to see Ella and Beckett getting to know each other through their letters. Other than Beckett not being upfront about things from the start, he was a good character. I love how devoted and determined he was to show Ella that he wasn't going to leave, even after she sent him away. Colt and Maisie were amazing kids. Their bond warmed my heart so much. I don't have any siblings of my own, so I always enjoy reading about strong sibling bonds like these. Ella was amazingly brave and strong for everything that she had to go through. I literally don't know how she was able to handle all of it.
This book was raw, gritty, heartwarming, heartbreaking, and real all at the same time.
*I received a copy of this book from the publisher via Netgalley in exchange for an honest review.
Book Links
Goodreads
Barnes & Noble
Amazon
iBooks
Author Links
Website
Facebook
Twitter
Instagram